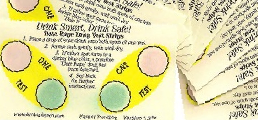 Drink Safe Technologies offers you the opportunity to safe guard your own drink by using our Drink Safe Coaster or Test Kit. With just put 1 drop from the drink on these coasters or cards and you will instantly know if your drink has been spiked!
Drink Safe is used around the world and is the trusted date rape prevention kit for individuals, universities, concerned parents, bar tenders and more!
Learn more about Drink Safe Technologies and Get One for Own Safety.